JOIN US for our 5th Annual 5K/10K Run for the Wounded on May 19, 2018!

Our 5th Annual Run for the Wounded will take place at historic Grayson Stadium at Daffin Park in beautiful downtown Savannah, Georgia, home to our city's own Savannah Bananas baseball team!
What is the Run for the Wounded?
Join the Nine Line Foundation and Nine Line Apparel every Armed Forces Day for our Annual 5K/10K Run for the Wounded here in Savannah, Georgia. Proceeds from the race will go directly towards our newest initiative: building a transitional community, a Veterans Village, for homeless veterans right here in Savannah, Georgia. With both 5K and 10K options available, this twilight run is great for any participant. Participants will receive a post race beer from local, veteran-owned Service Brewing Company (participants age 21+ only), a Nine Line Apparel designed Event T-shirt, koozie, and special edition 5K/10K challenge coin.

The Savannah Bananas will be serving up a variety of food options. Vendors will be onsite to showcase unique products, local businesses, and fun activities. Children and dogs are always invited to join! We will even have a bouncy house to keep those kids occupied while you enjoy everything the event has to offer!
Canned Food Collection
We will also be collecting nonperishable foods to donate to local homeless organizations! Bring canned and dry goods, toilet paper, and toiletries, to help our local homeless population in Chatham County!

Top Race in Georgia
We are proud to have been named one of the top races in Georgia!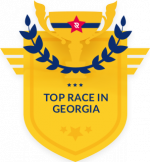 Registration Fees*
Before April 1st: $25
April 1st-April 30th: $30
May 1st-May 17th: $35
Packet Pick-Up on May 18th/Race Day on May 19th: $40
*Add $5 for 10K Participation

Rucking Option
If you are interested in loading up your pack and rucking this event, we always have a great group doing this. Use any load you like! Let us know if you plan on moving slower than a typical walker, and we can allow you an early start. Ruckers are also invited to ruck with canned goods, which we will be collecting at the event to donate to local homeless organizations!

Virtual Runners
Can't make it to Savannah for Race Day? Pre-Register for our Virtual Race Option! Choose your shirt size and share a photo with us after you complete your 5k or 10k! @ninelineapparel @theninelinefoundation and #runforthewounded on Instagram. Virtual Race Registration Sign Up is available until May 19th. Only virtual race registrations placed BEFORE May 4th will receive their registration packet by May 19th. Virtual Sign Ups on or after May 4th will be shipped AFTER May 22nd.


Proud Partners of the Annual Run for the Wounded
SPONSORSHIP OPTIONS AVAILABLE
*All Sponsors are invited to set up a vendor booth at the event!*
Medal of Honor Sponsor – $5,000
Top Billing Sponsor for the Event
Logo on Mile Marker Signs (limited availability)
Mention at start of race
Name and Logo on all promotional materials, media and press, websites and social media, and race shirts
Hyperlinked logo on Event Page
Logo on banner at Start/Finish line
Ten (10) Race entries
Silver Star Sponsor – $2,500
Presenting Billing Sponsor for the Event
Mention at start of race
Name and Logo on all promotional materials, media and press, websites and social media, and race shirts
Hyperlinked logo on Event Page
Logo on banner at Start/Finish line
Eight (8) Race entries
Legion of Merit Sponsor – $1,000
Name and Logo on all promotional materials, media and press, websites and social media, and race shirts
Hyperlinked logo on Event Page
Logo on banner at Start/Finish line
Five (5) Race entries
Bronze Star Sponsor – $500
Name and Logo on all promotional materials, websites and social media, and race shirts
Hyperlinked logo on Event Page
Logo on banner at Start/Finish Line
Three (3) Race entries
Commendation Sponsor – $250
Name and Logo on all promotional materials, websites and social media, and race shirts
Hyperlinked logo on Event Page
Two (2) Race entries
Sponsorship payments can be made online at https://grouprev.com/5thannual5k10krunforthewounded or you can send a check to:
Nine Line Foundation
Attn: Ashli Clubine
450 Fort Argyle Road
Savannah, GA 31419