JOIN US for our 5th Annual 5K/10K Run for the Wounded on May 19, 2018!
THANK YOU to everyone who helped make our 5th Annual Run for the Wounded such a HUGE success! With your support, we raised $80,000 towards our Veterans Village Initiative!!
What is the Run for the Wounded?
Join the Nine Line Foundation and Nine Line Apparel every Armed Forces Day for our Annual 5K/10K Run for the Wounded here in Savannah, Georgia. Proceeds from the race will go directly towards our newest initiative: building a transitional community, a Veterans Village, for homeless veterans right here in Savannah, Georgia. With both 5K and 10K options available, this twilight run is great for any participant. Participants will receive a post race beer from local, veteran-owned Service Brewing Company (participants age 21+ only), a Nine Line Apparel designed Event T-shirt, koozie, and special edition 5K/10K challenge coin.

Canned Food Collection
Thank you to everyone who contributed to our collection for the homeless here in Savannah! Thanks to you, we'll be making a significant contribution of canned and dry goods, toiletries, and basic essentials to the underprivileged in our communinty!
RACE RESULTS
Top Race in Georgia
We are proud to have been named one of the top races in Georgia!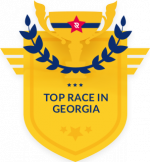 RACE PHOTOS
Proud Partners of the Annual Run for the Wounded
SPONSORSHIP OPTIONS AVAILABLE
*All Sponsors are invited to set up a vendor booth at the event!*
Medal of Honor Sponsor – $5,000
Top Billing Sponsor for the Event
Logo on Mile Marker Signs (limited availability)
Mention at start of race
Name and Logo on all promotional materials, media and press, websites and social media, and race shirts
Hyperlinked logo on Event Page
Logo on banner at Start/Finish line
Ten (10) Race entries
Silver Star Sponsor – $2,500
Presenting Billing Sponsor for the Event
Mention at start of race
Name and Logo on all promotional materials, media and press, websites and social media, and race shirts
Hyperlinked logo on Event Page
Logo on banner at Start/Finish line
Eight (8) Race entries
Legion of Merit Sponsor – $1,000
Name and Logo on all promotional materials, media and press, websites and social media, and race shirts
Hyperlinked logo on Event Page
Logo on banner at Start/Finish line
Five (5) Race entries
Bronze Star Sponsor – $500
Name and Logo on all promotional materials, websites and social media, and race shirts
Hyperlinked logo on Event Page
Logo on banner at Start/Finish Line
Three (3) Race entries
Commendation Sponsor – $250
Name and Logo on all promotional materials, websites and social media, and race shirts
Hyperlinked logo on Event Page
Two (2) Race entries