STAY TUNED for information on our 5th Annual 5K/10K Run for the Wounded – May 19, 2018!

Our 5th Annual Run for the Wounded will take place at historic Grayson Stadium at Daffin Park in beautiful downtown Savannah, Georgia, home to our city's own Savannah Bananas baseball team!
What is the Run for the Wounded?
Join the Nine Line Foundation and Nine Line Apparel every Armed Forces Day for our Annual 5K/10K Run for the Wounded here in Savannah, Georgia. Proceeds from the race will go directly into helping our current veteran recipient. With both 5K and 10K options available, this twilight run is great for any participant. Participants will receive a post race beer from local, veteran-owned Service Brewing Company (participants age 21+ only), a Nine Line Apparel T-shirt, koozie, and special edition 5K/10K challenge coin.

We are proud to have been named one of the top races in Georgia!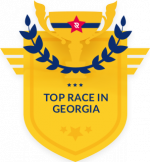 Registration Fees*:
Before April 1st: $25
April 1st-April 30th: $30
May 1st-May 17th: $35
Packet Pick-Up on May 18th/Race Day on May 19th: $40
*Add $5 for 10K Participation

SPONSORSHIP OPTIONS AVAILABLE:
Medal of Honor Sponsor – $5,000
Top Billing Sponsor for the Event
Logo on Mile Marker Signs (limited availability)
Mention at start of race
Name and Logo on all promotional materials, media and press, websites and social media, and race shirts
Hyperlinked logo on Event Page
Logo on banner at Start/Finish line
Ten (10) Race entries
Silver Star Sponsor – $2,500
Presenting Billing Sponsor for the Event
Mention at start of race
Name and Logo on all promotional materials, media and press, websites and social media, and race shirts
Hyperlinked logo on Event Page
Logo on banner at Start/Finish line
Eight (8) Race entries
Legion of Merit Sponsor – $1,000
Name and Logo on all promotional materials, media and press, websites and social media, and race shirts
Hyperlinked logo on Event Page
Logo on banner at Start/Finish line
Five (5) Race entries
Bronze Star Sponsor – $500
Name and Logo on all promotional materials, websites and social media, and race shirts
Hyperlinked logo on Event Page
Logo on banner at Start/Finish Line
Three (3) Race entries
Commendation Sponsor – $250
Name and Logo on all promotional materials, websites and social media, and race shirts
Hyperlinked logo on Event Page
Two (2) Race entries